Bi-Annual Fall Consignment Auction
This auction was held August 29th, 2020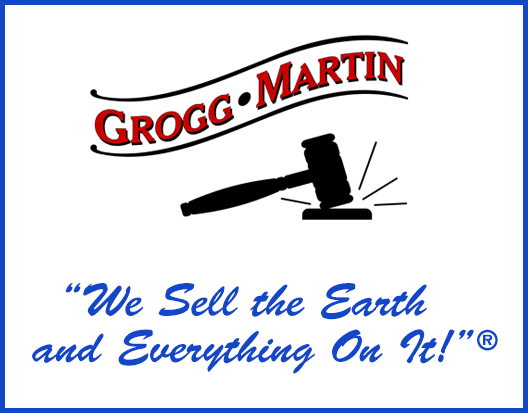 Grogg-Martin Bi-Annual Fall Consignment Auction
August 29th, 2020, 9:00am – 3:00pm
Check-In Dates: August 26th, 27th, and 28th from 8am – 6pm
Cash, Check, Debit/Credit Cards Accepted, Food Wagon Will Be Onsite
All items will be outside in an open-air environment. All auction goers are asked to adhere to 6' social distancing.
Contact us today to consign and for details or give us a call at (260) 350-7331 
COMBINE • TRACTORS • TRAILERS • TRENCHER • WAGONS • TRUCKS • MOWERS
John Deere 4840-New Paint, Tires, and Cab Kit, 8,228 hours and mint condition; John Deere 7700 Turbo Combine 4812 hours-very nice; International 1586 w/ 5,664 hours-very nice;  International 350-Gas-Restored; International Model M with factory steel wheels; 1993 International Flatbed-130,000 miles-7.3 Non Turbo-Allison Transmission; New Holland 3930 Tractor w/ 180 Koyker Loader;  Case Running Gear; 6 Row Corn Head Reel; 48' Van Trailers; Walker Mower 20H.P. 48" Deck; John Deere 4020 Gas w/ cab, original fenders, and a/c; Western 8' Straight Plow w/wiring harness; Western 8' MVP Plow w/o hiring harness; Ford 3000 Tractor w/ cab, Woods blade, and Front Hydraulic Plow; Case DC-4-Restored; Cub Cadet 123 Lawn Tractor; Belarus 800 Tractor; Allis Chalmers WD45 Narrow Front; Allis Chalmers B-Restored; Allis Chalmers CA Narrow Front; 1986 IHC DT466 10 SPEED tandem air brakes; Axel: air lift steerable tag axel 22.5 inch tires; John Deere 323E TracLoader; Gehl 5635 TURBO Skid loader w/heat; New Holland TR70 Combine-2,547 hours; 2004 Chevrolet Blazer-203,000 miles – 4wd; 1983 Ford F700 cab/chassis – 98,500 miles; 2000 Ford F250-151,000 miles w/ Western Plow-7.3 Diesel-Gooseneck Plate; Allis Chalmers F30-24PS 3000# Fork Lift; International 1486 snap on duals 20.8 x 538 – 25% rubber left
IMPLEMENTS • TILLAGE • PLANTING • FORAGE & HAY • MIXERS
Case IH 8430 Round Baler; Square Baler ¼ turn bale drop chute; AC 2 bottom 3 point plow; Winpower Corp Generator-540 PTO; Goosen Leaf Vac-11 H.P. Honda Engine; Mensch 1100 6' Side Shooter Bedder; Athens Plow Co. 3pt Disc; 10.00X16 3 Rib Tire on 6 bolt rim; 16" X 6" Sprunger Wagon Rim; P245/65 R17 Good Year Fortera Rim; Heston 5800 Round Baler; Case IH 5100 Soybean Special Drill-Very Nice; Hay Wagons; Kilbros 250 Gravity Wagon; Flow Gravity Wagon 300; John Deere 210 Grain Table; John Deere F145 3 Bottom Plow; Allis Chalmers 25' Field Cultivator; McCuroy Gravity Wagon; Agri Fab 8.75 H.P. Debris Collector; Tomahawk 60" Skid loader Bucket; Tomahawk Skid loader Bale Spear; New Idea 3pt. Snow Blower; Log Splitter; Allis Chalmers Side Rake; John Deere 250 Sprayer; Roller Racks; Tables/Chairs; 6 Chicken Crates; 6 row cultivators; 6 row rotary hoe; New Idea 325 2 row Narrow Corn Picker; Many Hog Feeders/Slat Gates/Fences/Water's w/ rods for pens; Redekob 4250 Chopper Attachment
SHARE THIS AUCTION WITH YOUR FRIENDS
Bid Online at Hi-Bid Address: 112 E Central Ave., LaGrange, IN 46761 End Date to
Property Location: 100 W, Howe, IN 46761 End Date to Submit Bids: October 11, 2022, 6:00pm
PEOPLE ARE TALKING ABOUT US
All the auctioneers and ring clerks and workers are funny, honest, and try their best to get it all right to please bidders and consignees alike!
Always a good place to go to get a item of your choosing.